At the end of 2018 around 70.8 million people were forcibly displaced across the world. Of these, 25.9 million were refugees, whilst 41.3 million were internally displaced within their country of origin.
50% of refugees across the world are children.
In 2018, more than two thirds of the refugees across the world came from just five countries: Syria (6.7 million), Afghanistan (2.7 million), South Sudan (2.3 million), Myanmar (1.1 million) and Somalia (0.9 million).
On a more positive note, the Refugee Council shows the valuable contribution that refugees make to the UK, which you can also read here.
So, in our post today, let's look at some personal and moving stories from some of the extraordinary people who have fled their country of origin to come to Haringey in the 20th and 21st centuries.
We will start with looking at the life of Roman Halter (1927 – 2012) who was born in Chodecz, Poland, the youngest of seven children. During the Second World War, after Germany's invasion of Poland, Roman was held in the Lodz ghetto in 1940 and then Auschwitz-Birkenau and Stuffhof concentration camps. He was then used as slave labour in a factory in Dresden until liberation in 1945.
As Roman said, "My whole family was murdered … from my town of Chodecz, where 800 Jews lived, four of us survived."
At the end of the War, after the liberation of the concentration camps, Roman came to Britain in autumn 1945 as one of the 731 child Holocaust survivors, known as 'The Boys'. He qualified as an architect, taught architecture and opened his own practice in London and Cambridge. Roman married fellow survivor and refugee Susie Halter (née Nador) in 1951, and they settled in Haringey in 1953 and raised their three children.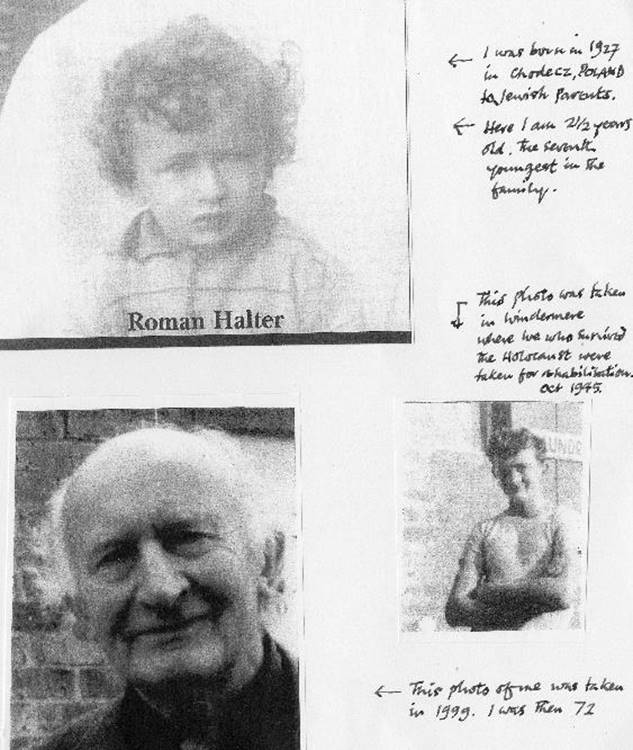 Images of Roman Halter as a child in Poland, as a young man on his arrival in the UK in 1945 and more recently.
From the estate and © Roman Halter
In 1974 Roman started recording his Holocaust experiences in writing and through painting – the promise made to his grandfather, who died of starvation in the Lodz ghetto. He also began designing and producing stained-glass windows and making, in cast filigree, Royal Coats of Arms for British Embassies and Crown Courts. He used to paint most days; in 2006 the Imperial War Museum acquired seven of his paintings.
In 2006 writer and broadcaster Fergal Keane accompanied Roman to Poland. The film of their visit was shown on the BBC. Roman's autobiography Roman's Journey was published in 2007.
In this short film, Roman was interviewed by young people at Bruce Castle talking about his experiences in the concentration camps as a young man and the importance of sharing those experiences for people to learn from today. The National Holocaust Centre and Museum  also has a webpage dedicated to Roman's story. More recently, just before lockdown in March, a commemorative bench was unveiled to both Roman and Susie Halter – you can read about that here.
We will let Roman end by saying: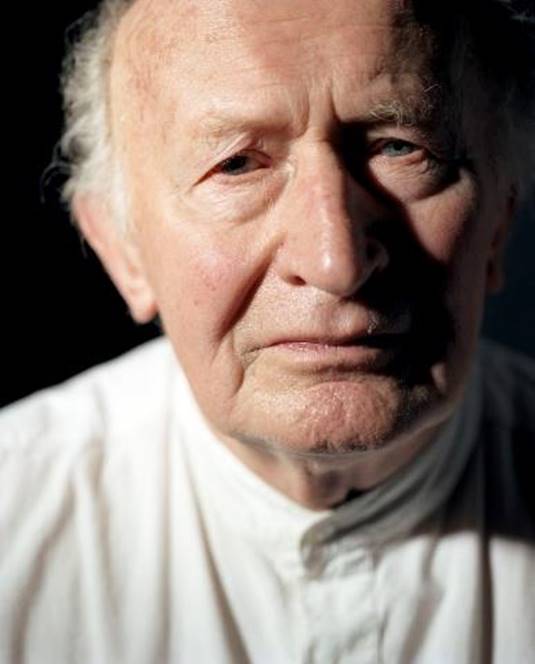 "The truth of our past – the history of the Holocaust – must be taught, especially to younger generations, for the sake of concord amongst people and for the building of a better, safer future and world."
From the collections of Bruce Castle Museum (Haringey Archive and Museum Service)
© The photographer: Matt Whittle
This image was taken of Roman by Matt Whittle as part of the travelling exhibition, Portraits for Prosperity, of photographs of the survivors of the Holocaust living in Great Britain today.
From 1975-1992, some 24,000 Vietnamese refugees entered the UK under a resettlement programme. In 1984, a booklet was produced by the Page Green Centre in Tottenham – The boat refugees from Vietnam. It tells the story of a young boat refugee Nghi Luu. He wrote his own remarkable story as a General Studies Project whilst a student in the 6th form of Gladesmore Community School. Nghi wanted to relate the life of the refugees on their journeys to resettlement 'because not many people know about the boat people.'
Extracts from his booklet are recorded here:
" After all the conflict and change in government regimes in Vietnam, food was rationed and workers' income was very low. We had no hope for our future. Our problems forced us to think of a way out. We sold most of our furniture for our secret journey. With enough money, the next step was to choose a decent boat and a reliable owner. It cost a few thousand Vietnamese pounds for a place on the boat. I was in one of those boats, myself together with my family and dozens of other families.
We sailed from Haiphon to Hong Kong… After only a few hours in the open sea, most of us seemed worn out or were seasick… Forget about the possibilities of bad weather. How long could we survive like this? Even if our bodies survived, I doubted whether our minds would.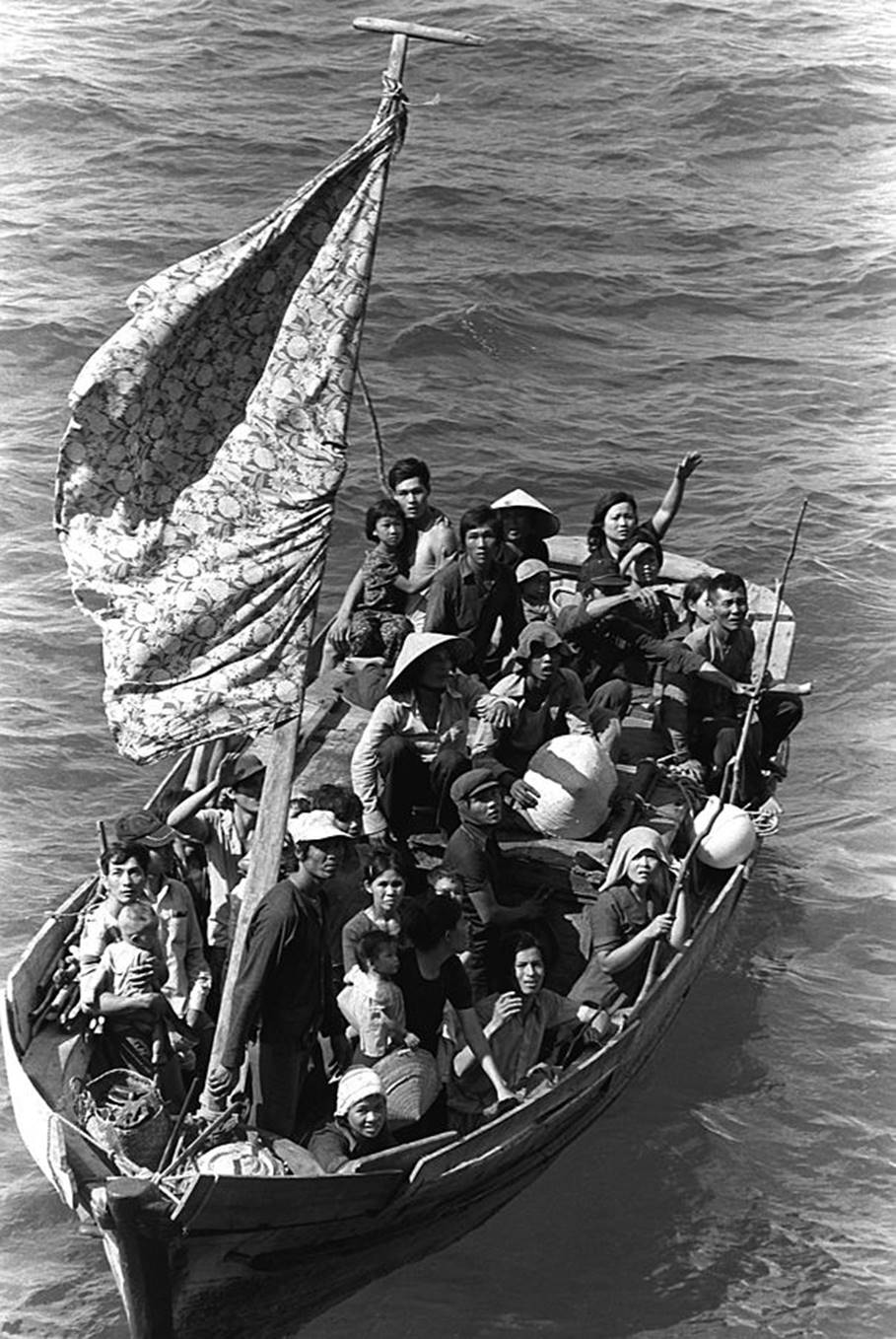 There were about 16 families on the boat, including a few young single people, making the total up to a little over 100 people in all. There was scarcely room to turn around. We slept where we sat. A boatman and a few young ladies volunteered to cook food. Two meals a day served to each family. But we consumed a lot of water, and we soon reached a critical point. Some of us had to consume seawater even for drinking. The wind blew hard and the seas were like mountains, 20 feet high.
….. For two days we remained in one place, "Is this the end?" we all thought. … Frankly I can't remember exactly what happened the second time we saw a ship. It was a Chinese fishing ship. We appealed for a tow. They agreed – but we had to pay them in terms of gold rings and chains. With the aid of the ship it was not long before we got near Hong Kong area…. They towed us as far as they could and left us outside Hong Kong water.…After all those long days and nights of struggling, eventually the nightmare journey was about to end.
Life on the first refugee camp in Hong Kong was harsh. Locked up in crude and crowded conditions, it was not much different to a prison. There were no beds, you washed under a tap, queueing in the heat.  The next camp was a 'Free Camp' run by the Red Cross with far better conditions and you were encouraged to find work whilst living there, whilst waiting for an announcement for particular countries to offer a certain number of resettlement places to refugees. When Britain offered a number of places, my family decided to take that opportunity. Day after day people left the camp for resettlement.
By the time my family actually left the departure camp to the airport, more than a year had passed …. It was about the end of 1979. It was such a wonderful flight and a great experience. We had never been on a plane and would never have dreamt of this. In the UK, we were driven to a reception centre, an ex-RAF base at Thorney Island. Each family had a room. Each day was spent attending English classes, 5 hours of learning the language every day. With the help of the British Council for Aid to Refugees (BCAR). We learnt the customs and language, and they helped us resettle to new houses and new jobs. We could not have been treated any better.
In 1980 we relocated to Milton Keynes. At the school I attended, I found everything was so different, so strange at first sight, but I wasn't the only Vietnamese student. After two years, we swopped houses with an English family who lived in Tottenham. I didn't want to go, I didn't want to miss my dear English teacher, my friends and the city which took us so long to get used to. Once in London, again the important step for me was to find a school.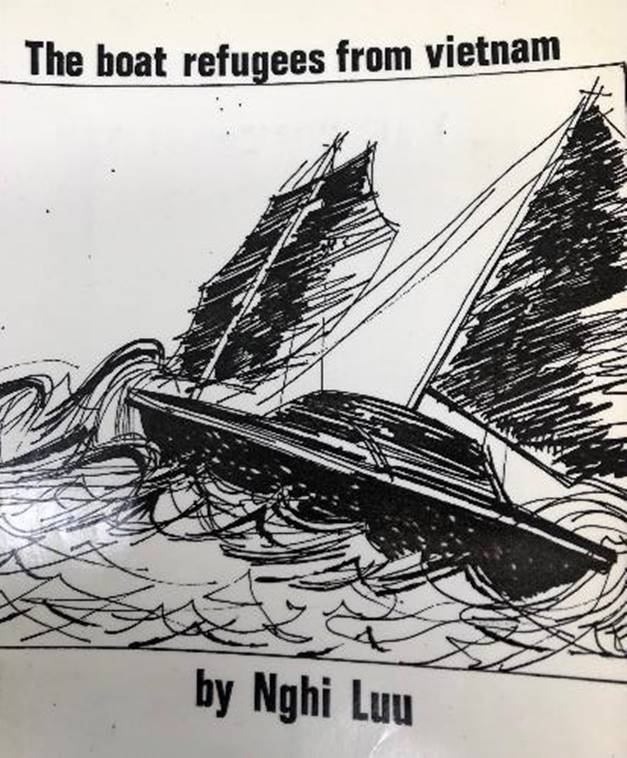 Cover of Nghi Luu's booklet, produced by the Page Green Centre, 1984
From the collections of Bruce Castle Museum (Haringey Archive and Museum Service)
I joined the Gladesmore School sixth form, but this time I was the only one Vietnamese student and even the only one in Tottenham. I felt so lonely and sorry for myself but now I had to stand on my own two feet. I was the odd one out in the sixth form, the only one who could not speak proper English. But being a refugee, that was certain to happen to anyone, not just me. At Gladesmore, it didn't take me long to settle down and get used to the system. But I know it would take me years to catch up with the others. For my English to be as perfect as English students that would be an achievement.
To end this story, I would like to say on behalf of all refugees that we are very grateful for the kindness shown towards us. I am grateful also to some of my friends for their encouragement as this booklet developed, and my teachers, or I would never have been able to write this. As a refugee myself, I have used all my experiences and memories of what I overcame to write about the boat refugees from Vietnam. "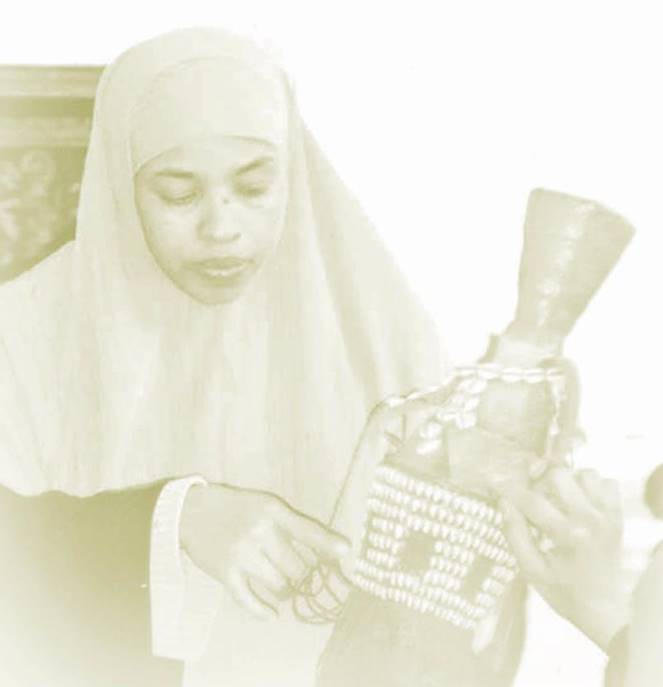 From the collections and © Bruce Castle Museum (Haringey Archive and Museum Service)
The settlement of Somalis in London can be traced in two phases. Firstly, during the second half of the 19th century, Somali tacabir (intrepid migrants who ventured abroad) with a long tradition of seafaring, came from what was then British Somaliland and were employed by the British merchant navy on steam-powered liners bound for the UK. The Somali sailor community based itself in London's East End.
The second phase, saw Somali political refugees escaping the regime of Siad Barre and the civil war in Somalia from the 1980s onwards. Those that managed to escape to Britain at first were often from the wealthier families and included those who were British citizens, (still having British passports, even after Somalia became independent in 1960); others were able to be with family already in the UK; whilst others sought political asylum as refugees. In 1991, Somalia's President Siad Barre was overthrown, but this era of conflict has never been resolved. Three decades on there is a continuing refugee crisis with political and economic instability.
In 2007, at Bruce Castle we worked with local women and their families from the Somali community in Tottenham who wished to take part in their own exhibition. They wanted to share aspects of Somali culture and to develop further understanding of this developing East African country and its traditions. Through the sharing of objects and memories the women had an opportunity to discuss their experiences and to explore their feelings towards Somalia. During the course of the project, it became clear that the participants attach great importance to the preservation of the Somali way of life and its role in their identity.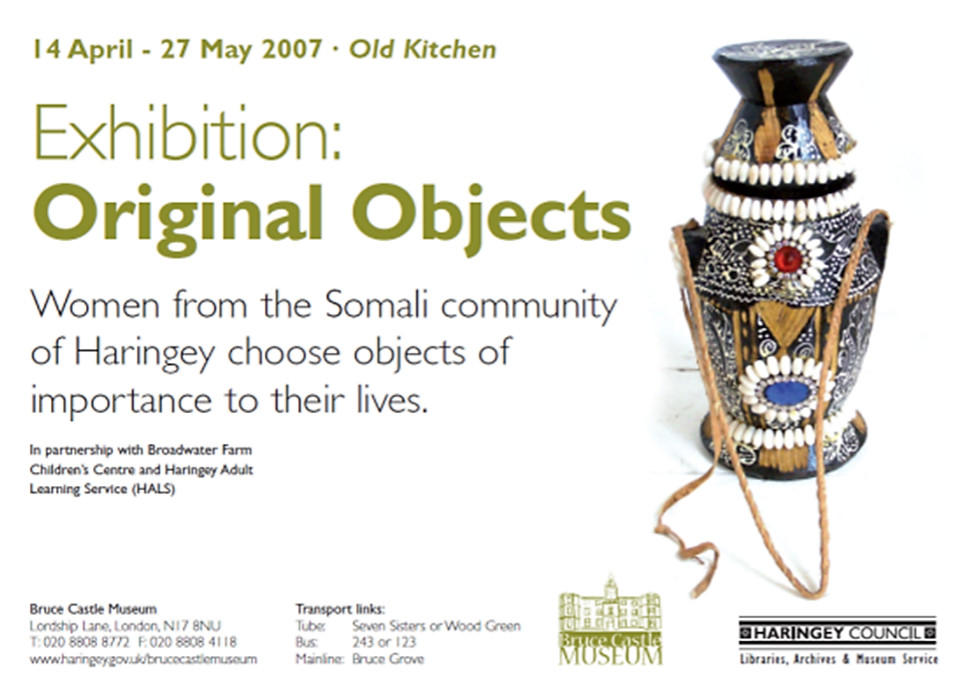 From the collections and © Bruce Castle Museum (Haringey Archive and Museum Service)
Here are some of the memories and thoughts they shared in their exhibition:
"I miss my country very much…..I tell my children about how different our childhoods are. . . it was safe; we had respect for all our neighbours and we were like one big family…
…I remember all the nice things but those memories are mixed with sadness for the state of things now. I will never forget my country. Maybe one day there will be peace and we can return."
"I dream of Somalia and its traditions; I wish my country could find peace and a good government."
"I think of my parents, and my sisters and brothers. I miss them and worry about them. I would love my children to meet their grandparents."
"I left Somalia when I was 15 because of the war. I was living in Mogadishu when the fighting and bombing started. Our house was looted by people from a different tribe. It was very frightening – me and my family were hiding in the corner when people broke down our door and stole all our possessions. We had to flee for our lives."
"We reached Kenya but we were not able to stay. We moved onto Syria and then Holland and Denmark. I eventually came to England because my parents are here. Now we have found peace and are happy together."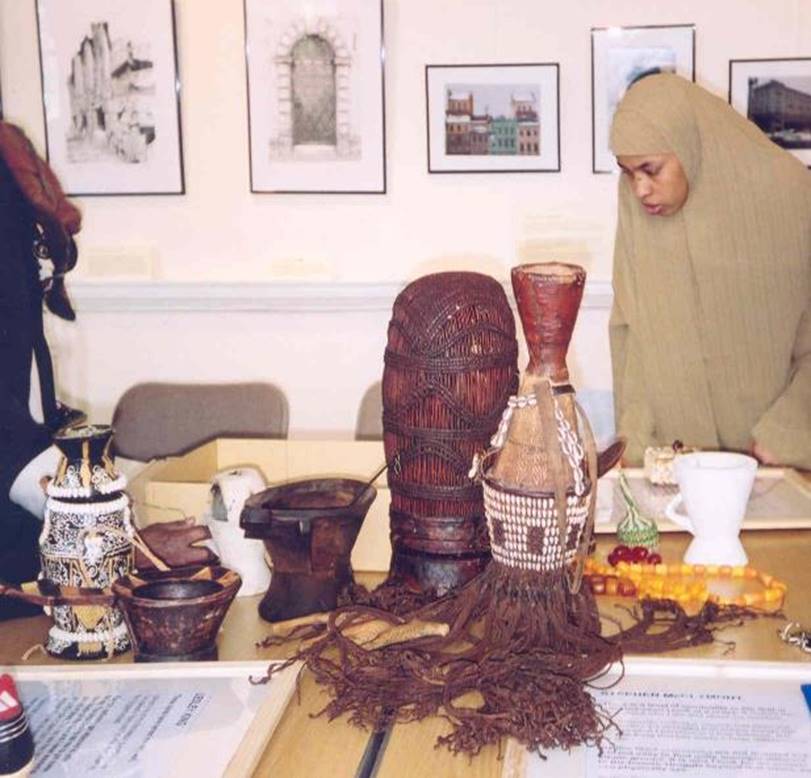 From the collections and © Bruce Castle Museum (Haringey Archive and Museum Service)
There were a number of traditional Somali objects from home that the women kindly loaned for the exhibition, many of which had very special memories and meanings. Here is a photograph of a Dhiil (below), a milk carrying container, which was lent by Fadumo. It is over 100 years old and was handmade from leather and shells.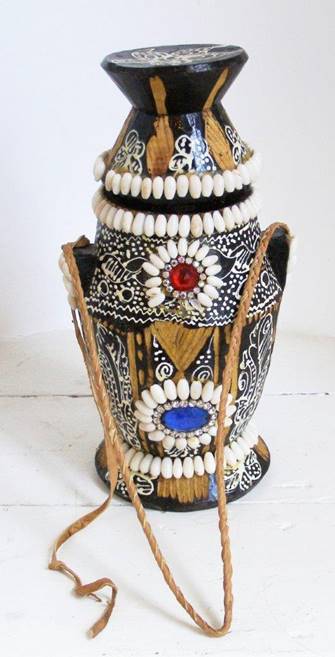 From the collections and © Bruce Castle Museum (Haringey Archive and Museum Service)
"I remember this pot . . . my mum used it to milk the goats and cows. The milk was very fresh and made good froth in the coffee. Goats milk is better for tea – it tastes better."
"There is something which I cannot forget – the taste and smell from these objects."
Most of the Congolese community living in the UK today came during the early 1990s escaping the political turmoil in the Congo, as well as the collapse of the State and its economic decline. Earlier refugees had also gone to Belgium and France. A second wave of emigration was triggered by the 1998 war with further refugees seeking asylum around other countries in Europe, Britain and the USA. In the UK the Congolese constitute the largest group of Francophone black Africans. Most live in North and East London, especially in Haringey and Newham. In Haringey during the early 1990s, ZACCA – the Zairean Congolese Community Association, based at the Selby Centre in Tottenham – represented in the Tottenham area the largest concentration of people from the Congolese community in this country.
In 2008-2009 as part of a HLF funded heritage project in Haringey and Tower Hamlets, working with Bruce Castle Museum: Roots and Routes: Congolese diaspora in multicultural Britain (a project led by CORECOG – Community of Congolese Refugees in Great Britain, with CRONEM – Centre for Research on Nationalism, Ethnicity, and Multiculturalism, at Surrey and Roehampton Universities), produced a book, highlighting and documenting the socio-cultural heritage of the Congolese communities in the UK.
Here are some extracts of some of the thoughts and recollections by individuals who were interviewed for the project: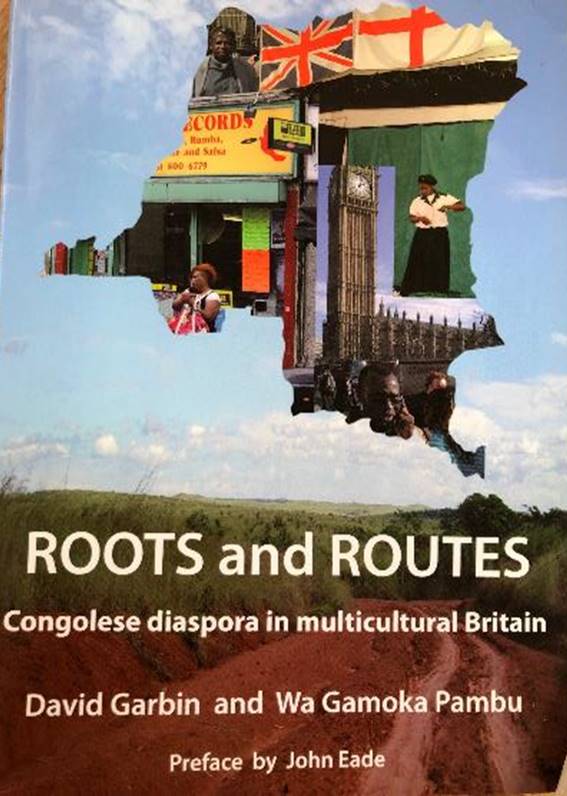 From the collections of Bruce Castle Museum (Haringey Archive and Museum Service)
" I arrived here in 1991 … One of the first waves of Congolese was after the massacre of students in Lubumbashi in 1990 …. It wasn't just students from Lubumbashi but they came from all over. England welcomed them … I didn't like it here at first, I missed the country, and I wanted to return but there was a second looting and they destroyed my house in Kinshasa and all that I had was taken. But I couldn't return. At the beginning the community was small, there was a cluster in London. And so we saw each other almost every day. At the beginning, nobody worked, and the money they received was not enough. Speaking English helped but it was difficult to integrate because you had to understand the system. I was educated and taught under a different system but here it is different …. When I came they put me in a horrible area, in north west London. My children couldn't go out and there bad things everywhere. Then I moved to Tottenham, where there are a lot of Congolese … The first wave of Congolese was really in east of London, Newham and so on. Tottenham was really with the opening of small businesses. The first Congolese business, a restaurant owned by Tata Mapasa, was in Tottenham. That was where a lot of people met up."
Mao Zakini, 48
" Officially, I am an exiled person. I mean, I have no identity … because to have an identity means to have papers, which specify you have an identity. In the Congolese diaspora we are not Congolese because we are not allowed to vote. I'm not Congolese, I'm not British. I'm an exiled person because I cannot vote. This is very, very important. Can you imagine that people fought in South Africa for so many years just to vote? So, if I can't vote, I have no nationality, I have no identity … I think elections are the key point of citizenship, really. I met some people who were living in Soweto before the end of apartheid. Those people start to tell you about the first day when they went to vote. They said for them it was like heaven! So for us, we feel we are not Congolese because we can't vote. "
Norbert Mbu-Mputu, 41
And that concludes our posts in tribute to 2020's Refugee Week: IMAGINE. We know we have only touched on a few stories and communities who have come to Haringey as refugees, but we hope we have been able to convey some of the breadth of culture and communities that have contributed so much to our borough over time.
People's long, dangerous and terrifying journeys are a theme throughout these experiences and stories shown here – something that we still see today with refugees on crowded boats in the hazardous waters of the Mediterranean Sea, or those who have made their way to the many refugee camps around the world. For those of us lucky enough not to have endured such distressing experiences, it truly is hard to imagine what they have been through – but it is important for us to at least try.
We are very grateful to all those who have shared their invaluable recollections and experiences with us here. It is important we are able to add them to our collections and build our community histories so that people do not forget and are able to learn from them – now and in the future. Like our refugee histories above.
Julie Melrose,   Archivist
Deborah Hedgecock,  Curator